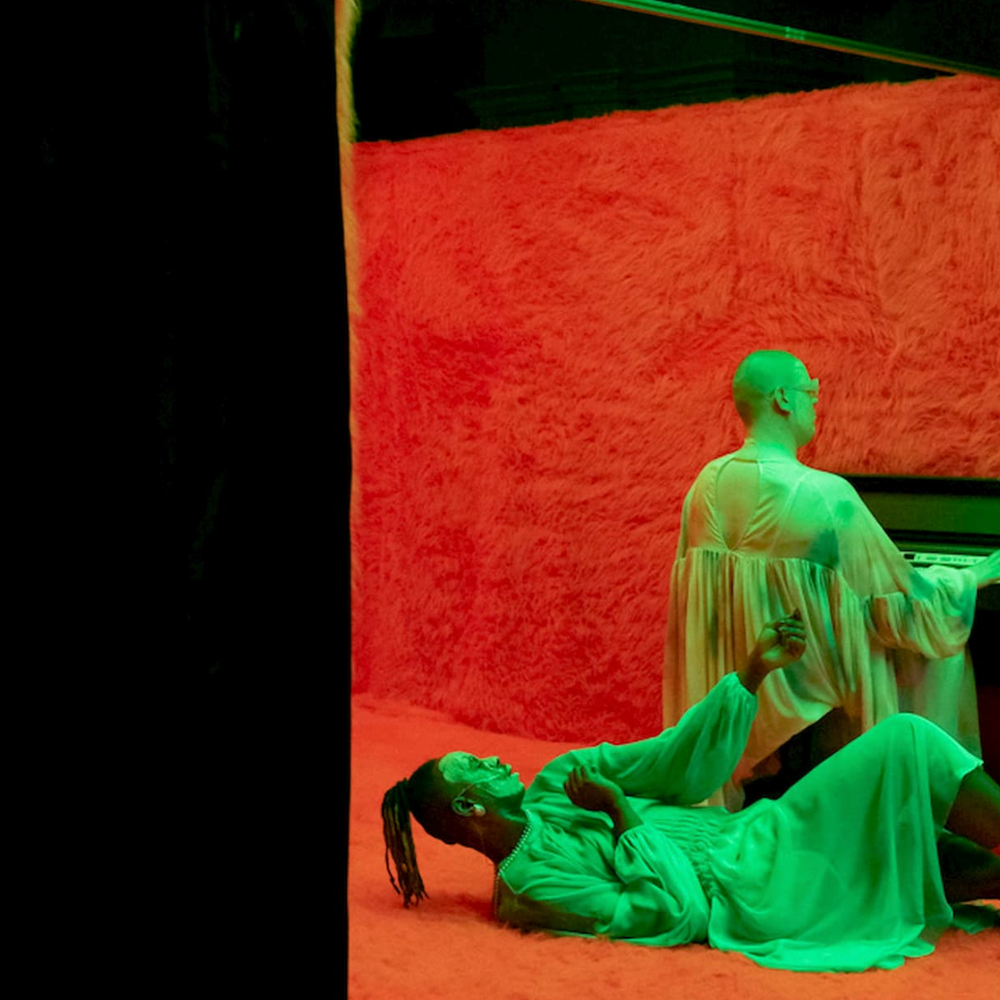 WHITE FLAG AT OPERA BALLET VLAANDEREN
NEW thEAtRE SCORE (APRIL 2024)
New co production between Theater Neumarkt (Zurich) and Opera Ballet Vlaanderen comes to Ghent, Belgium on April 16th,17th and 18th, 2024.
Following 'Learning How To Walk' (NTGent 2016) and 'White People's Problems' (Schauspielhaus Bochum), Bart Demey and Tania Gallagher collaborate with director Benny Claessens for the third time.
Press Release from Opera Ballet Vlaanderen :
All will be well, a new beginning has come!', goddesses in ancient myths always seem to sing when the end of a crisis is in sight, drying the tears of mankind. Director Benny Claessens, together with three contemporary goddesses and a queer chorus, hoists the white flag and leads us to a place of sensual and vulnerable pleasure. A place where we can surrender and do not always have to be strong. Where we dare to rebel against the existing order and try to look at traditional, masculine values such as strength, genius and heroism in a new way.
In the twilight of dawn, Benny's goddesses (Challenge Gumbodete, Benjamin Abel Meirhaeghe and Teresa Vittucci) sing of surrender as the last form of resistance. White Flag is a hybrid performance with live film, music, theatre… and lots of pink plush. The result: an entertaining and visually stunning performance. To hell with geniuses and heroes. A new beginning lies ahead.
ABOUT
Bart Demey and Tania Gallagher, probably best known as electronic duo Nid & Sancy, have been composing music for theatre and screen since 2002. 
Their first joint work, an electronic music project and performance collective called Galacticamendum, catapulted them in the centre of attention by way of a series of mail art CDs sent anonymously to the national radio station Studio Brussels in Belgium. Subsequently, Demey and Gallagher were formally invited to step out of anonymity and play their first shows at the Pukkelpop festival in Belgium, presenting a performance that explored the boundaries between music, visual art, and performance. 
Since then they have worked on the edge of theatre, fashion, performance and film. Demey and Gallagher have created compositions for various European companies and directors such as Dood Paard, De Onderneming, Eisbar, Campo Victoria, Toneelhuis Antwerpen, NTGent, KRAPP VZW, Gorki Theatre Berlin, Neumarkt Zurich, Opera ballet Vlaanderen and Schauspielhaus Bochum amongst others. 
In 2015 Demey and Gallagher were appointed as music directors of fashion label KTZ, led by Bjork swan dress designer Marjan Pejoski, a collaboration that is still ongoing today. In 2020 music from their Indonesian-inspired project Gamelan Voices was used in Iris Van Herpen's  'Hypgnosis' couture show in Paris. 
At the center of the work created by the couple, is a no holds barred search for the sounds they hear in their head. Whether it's a quest to find cheap broken instruments to create the atmosphere of an apocalyptic 'Post Europe' for Benny Claessens piéce de resistance,  'White People's Problems', or traveling to Indonesia to record 5m bamboo drums in the middle of the jungle and studying the use of rituals in social situations for their Gamelan Voices project. 
Recently the pair worked together with Dutch inventor Gieskes to build a mechanical modular synth to specifications., in order to combine acoustical sources with electronics. Anything goes to help achieve their vision. As a result, the symbiosis of these two distinct artists makes them a truly creative force.
Text by Alison Mounia. Published first in 80Hz.
You have reached the end of this section.